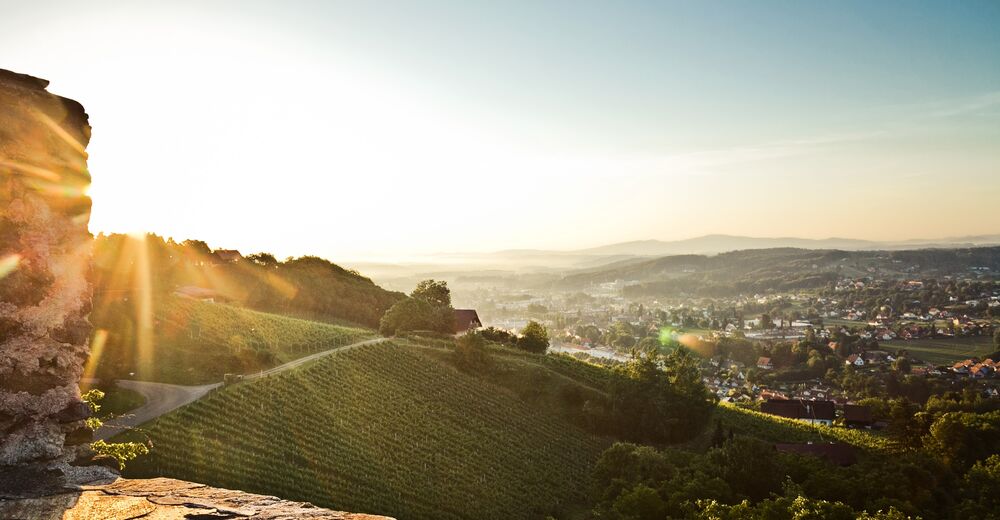 The district town and wine town * Deutschlandsberg * guarantees untouched nature and a modern city life. With approximately 11,400 inhabitants, Deutschlandsberg is located in the heart of Styria, in the middle of vineyards, meadows and forests. Archduke Johann already described Deutschlandsberg as a paradise in Styria.
Countless hiking opportunities through the vineyards up to the Koralpe offer a relaxing alternative to daily stress.
A special feature of the region and popular meeting places for locals as well as the attraction of many guests are the many quaint bush taverns with homemade delicacies and home-made wines, especially the Schilcher.
Due to the special climate, another specialty thrives in western Styria, often referred to as Styrian Tuscany - the Styrian pumpkin. The unique pumpkin seed oil is pressed from the roasted pumpkin seeds.
Riding stables, tennis courts, outdoor pools, an 18-hole golf course, well-marked bike trails, fishing opportunities and much more are available to sports enthusiasts.
Bad Gams * warmly invites its guests with its charming hilly landscape and a particularly mild climate. Health, experience and enjoyment are at home here.
Drink the unique Bad Gams iron healing springs. The magnesium content of the "active source" is particularly valuable for athletes.
---
Consejos para el tiempo libre Deutschlandsberg
Mostrar todas las actividades de tiempo libre.
---
Contacto Deutschlandsberg
Tourismusverband Schilcherland - Deutschlandsberg
Hauptplatz 34, A-8530 Deutschlandsberg
Teléfono

FAX

Página de inicio
Solicitud y Solicitud de folleto Alojamientos
Lugares Schilcherland Steiermark
Alojamientos Deutschlandsberg
2 Hoteles, Apartamentos de vacaciones...
Webcams