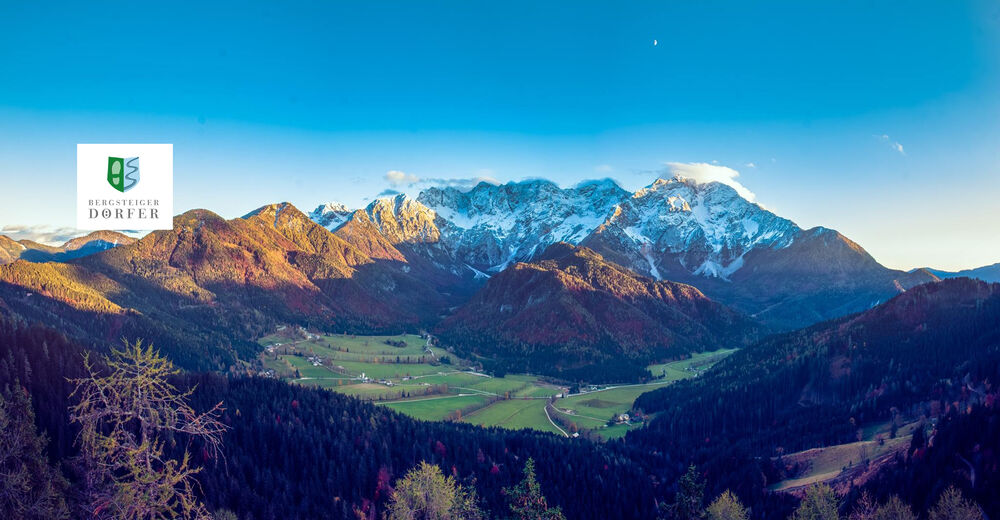 The Municipality of Jezersko comprises the surface area of 6881 hectares. Surrounding municipalities are Tržič, Preddvor, Kamnik, Solčava, and in the north the Republic of Austria. The Jezersko municipality has two settlements:
Spodnje Jezersko (694 - 1080 m) starts at the provincial stones, the historical border between Carniola and Carinthia, at the hamlet of Zgornje Fužine. First part of the settlement is Podlog (Kanonir) situated at the confluence of rivers Kokra and Reka, which flows from the area under Storžič and Stegovnik mountains, and it ends at the hamlet Dol. Second part is called Spodnji kraj (Bajte), situated at the confluence of rivers Jezernica and Kokra. Part of Spodnje Jezersko are also individual farms located along the river Kokra up the Komatevra valley all the way to below Virnikov Grintovec, Stegovnik and Ruša mountains.
Other parts of Spodnje Jezersko are named after remote farms, some of them having up to 360 hectares of land.
Zgornje Jezersko (903 - 2558 m) is a scattered settlement; its northern part called Ravne was populated first in the valley. Zgornje Jezersko of today has many parts: a bigger central hamlet around the primary school, and smaller ones such as Grabnar, Kvance, Žabji trg, Stara pošta, Sibirija, Anclovo and Raven with farms and houses around the church of St. Andrew.
Panoramic camera: www.youtube.com/c/TICJezersko/live
Promo video: www.youtube.com/watch?v=N-PVsspixSE
Source: jezersko.info/jezersko1.html
Mountaineering Villages: eng.bergsteigerdoerfer.org/
---
Consejos para el tiempo libre
Jezersko
Mostrar todas las actividades de tiempo libre.
---
Contacto
Jezersko
TIC Jezersko
Zgornje Jezersko 57, SI-4206 Zgornje Jezersko
Teléfono

Página de inicio
E-Mail