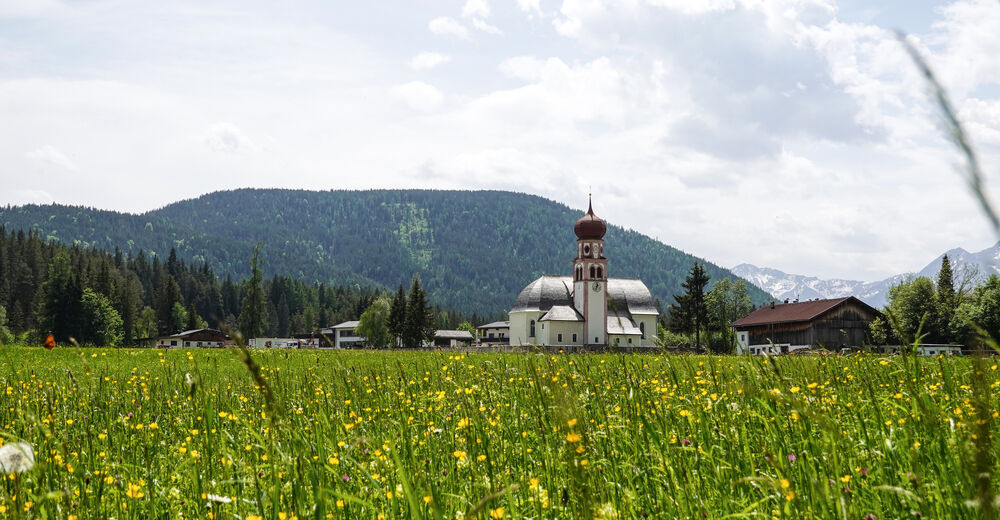 Leutasch in summer
At a proud 1,136 meters, the Leutascher Hochtal stretches an impressive 16 kilometers through the Alps south of the Zugspitze - open to everything your heart desires.
The lush landscape is pristine and absolutely unique in Tyrol: hiking trails through deep green forests and lush alpine meadows, extensive (e-)bike trails along the turquoise blue Leutascher Ache, interspersed with boisterous torrents, climbing areas and crystal clear lakes, flanked by rustic huts and the imposing Wetterstein Mountains. There is really a lot of space to enjoy here: Majestically, the Hohe Munde looks over the vast mountain world and its precious natural treasures - from the Almenparadies Gaistal to the spectacular Geisterklamm.
For the "Luitaschers" there is no more beautiful place on earth, after all, the extensive high valley offers everything one could wish for in a real mountain summer: An almost unbelievable variety of wide, signposted hiking trails. Plus picturesque mountain and e-bike routes, breathtaking climbs and small natural oases along bubbling mountain rivers and reflecting mountain lakes. With a beginner-friendly bike park, exciting nature experiences, an adventure pool with children's world and sauna and organic farms, families will also feel at home right away.
Greetings on Tyrol's high plateau and welcome to Leutasch!
---
---
Consejos para el tiempo libre Leutasch
Mostrar todas las actividades de tiempo libre.
---
Contacto Leutasch

Region Seefeld – Tirols Hochplateau / Informationsbüro Leutasch
Kirchplatzl 128a, A-6105 Leutasch
Teléfono

FAX

Página de inicio
E-Mail
Solicitud y Solicitud de folleto Alojamientos
Lugares Region Seefeld – Tirols Hochplateau
Tren de montaña Temporada de verano

Alojamientos Leutasch
43 Hoteles, Apartamentos de vacaciones...

Proveedor de Deportes Leutasch
Ofertas y Paquetes Leutasch
Webcams