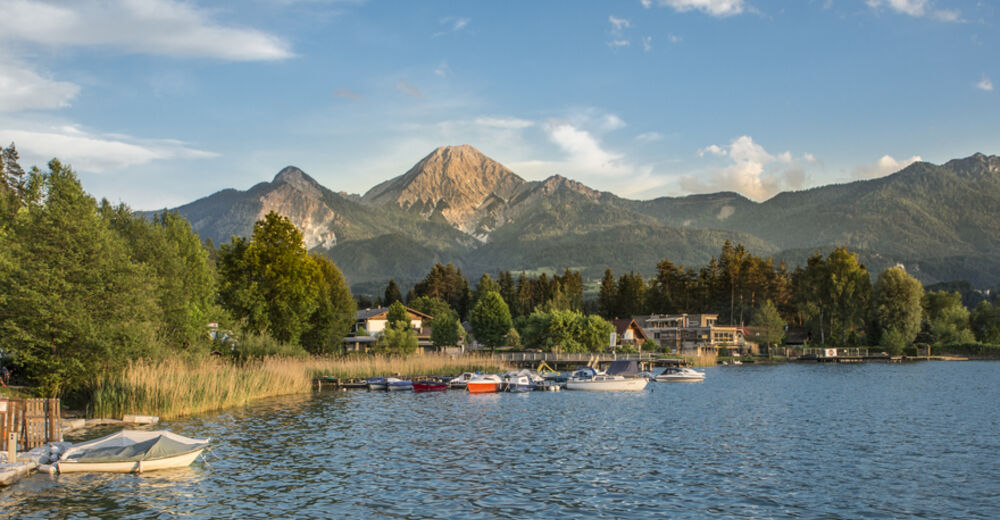 Welcome to Faak!
feel-good turquoise
Faaker See (Lake Faak) is uplifting in turquoise. With a touch of the Caribbean for endless water fun.
Carinthia's southerly lake. An idyll. Mountains all round like carvings, the meadows like scented carpets dotted with colourful flowers. And then the views of the sparkling water. Constantly changing shades between green and blue. If you now think the Villach Region sounds more like the Caribbean than the Alps – we may shrug and smile. But prepare to be amazed when you see the unique, brilliant colour of Lake Faak. It truly is an uplifting turquoise. As you will see when you swim in it.
Turquoise puts you in a good mood, gives you a feeling of carefree vitality and heightens intuition. And it will tell you that a holiday on Lake Faak is just the thing for you. Whatever your age. An attraction for all the generations. Countless walks, hiking trails and bike paths are a good way to discover the scenic countryside.
Amid the majestic mountains, the craggy summit of Mittagskogel rises up behind. An uplifting experience. Another landmark: the ruins of Finkenstein Castle. And on the lake? Why not try windsurfing, sailing and boating? Or simply relax, lie back in a lounger and soak up the sunshine. A tip: hire a canoe and explore the interesting reed belt.
Who says that an island always has to be in the sea? In the Villach Region there is one in the middle of Lake Faak. With woods, tennis courts, a beach, large sunbathing area and the only island hotel in Austria. Four stars, spa and restaurant – also for non-residents!
---
---
Consejos para el tiempo libre Faak am See
Mostrar todas las actividades de tiempo libre.
---
Contacto Faak am See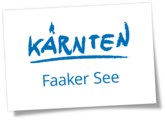 Tourismusinformation Faak am See
Dietrichsteinerstraße 2, A-9583 Faak am See
Teléfono

Página de inicio
E-Mail
Solicitud y Solicitud de folleto Alojamientos
Lugares Region Villach - Faaker See - Ossiacher See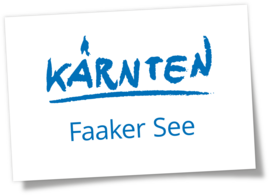 Alojamientos Faak am See
32 Hoteles, Apartamentos de vacaciones...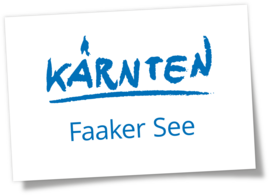 Proveedor de Deportes Faak am See
Webcams