Ferienresort Alpenhof
6281 Gerlos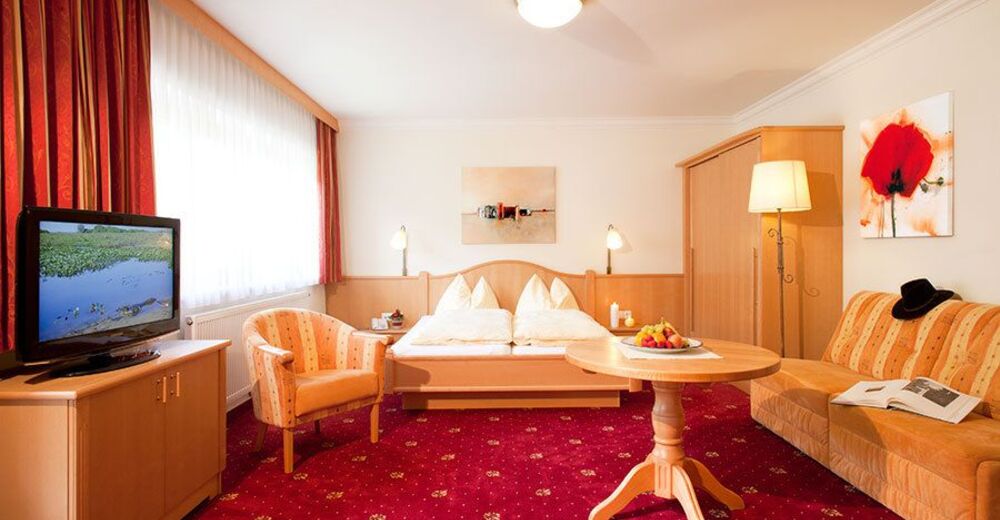 hotel

130 Camas

Familie Stöckl

Gerlos 125, 6281 Gerlos
Welcome at family hotel
Alpenhof in Gerlos
The Alpenhof Family holiday hotel-resort in Gerlos, awarded 4-crowns and 4-Stars is specialized and tailored to vacations with children. A host of different free time activities permit small children and teenagers alike to participate in varied, diverse activities without ever becoming bored.
In cooperation with the Gerlos family team and Gerlos-Active in summer as well as the children's ski school in the winter, we look after your children daily between the hours of 9:30 and 3:30. Our large, comfortable suites and holiday apartments are ideally suited to family needs.
Our services make our hotel an ideal vacation spot for your family in Zillertal/Tirol. Although our hotel does not have its own child supervision, we have an extensive infrastructure catering to children's needs and our four star ranking makes us an affordable, top-quality vacation option in comparison with children's hotels.
Our 1200m² large Wellness facilities is unmatched in Gerlos. It offers you a 200m² indoor swimming pool and an additional outdoor, salt water whirlpool.
Enjoy our indoor Sauna facilities (not accessible to children), relax in our waterbed chamber, indulge in a massage from our massage therapist and chiropractor or treat yourself to a facial mask or cosmetic treatment from our beauty specialists.
If you would like complete privacy, rent a private sauna for the exclusive use of you and your family.
Our comprehensive wellness infrastructure, equipped with highly qualified massage therapists and beauty specialists offer our guests a reasonably priced high quality wellness experience in comparison with other wellness hotels.
A further advantage of our hotel: during off season periods, enjoy comfortable suites at affordable double room prices!
Given its location in the Zillertal Arena, Gerlos is the ideal place for skiers in the winter. With its wealth of family friendly slopes, Gerlos is especially suited to families, not to mention its offerings of a host of other winter sports.
Our hotel is located a step away from Gerlos and you can easily reach the Isskogel rail (1500m entfernt) by taking the ski bus that picks you up in front of the door (every 10 min) Ski slopes lead up to 200m direct to the hotel (proximity to slopes)
In cooperation with Michi's Ski School, Alpenhof offers a comprehensive program including kindergarden, children's ski school, ski tours, snow shoe hiking and ice climbing.
Disponibilidad
Ferienresort Alpenhof
a solicitud
disponible
no disponible
KW
lun
mar
mié
jue
vie
sáb
dom
1
2
3
4
5
6
7
8
9
10
11
12
13
14
15
16
17
18
19
20
21
22
23
24
25
26
27
28
29
30
KW
lun
mar
mié
jue
vie
sáb
dom
1
2
3
4
5
6
7
8
9
10
11
12
13
14
15
16
17
18
19
20
21
22
23
24
25
26
27
28
29
30
31
Precios
| Invierno | Temporada alta | Temporada baja |
| --- | --- | --- |
| Noche | 55 € hasta 120 € | 44 € hasta 65 € |
| con desayuno | 110 € hasta 200 € | 80 € hasta 135 € |
| Media pensión | 125 € hasta 210 € | 94 € hasta 150 € |
| Todo-Incluido | 125 € hasta 210 € | 94 € hasta 150 € |
| Verano | Temporada alta | Temporada baja |
| --- | --- | --- |
| Noche | 33 € hasta 50 € | 30 € hasta 49 € |
| con desayuno | 75 € hasta 100 € | 65 € hasta 85 € |
| Media pensión | 90 € hasta 115 € | 82 € hasta 101 € |
| Todo-Incluido | 90 € hasta 115 € | 82 € hasta 101 € |
Preise pro Person und Tag in EURO zuzüglich Ortstaxe von 1,80 €
Die Preise bei den Suiten und Zimmer verstehen sich inclusive:
4-gängigen Wahlmenü mit Salat-,Vorspeisen- und Nachtischbuffet
reichhaltigem Frühstücksbuffet
Mittags- und Nachmittagsbuffet
Gratis alkoholfreie Getränke vom Buffet
5 Tage Kinderprogramm im Familiennest im Sommer
5 Tage geführte Wanderungen mit Wellness Aktiv im Sommer
Fondueabend
Benützung der Squash- und Sporthalle
Tennisplatz
Fitnessraum
Kinderspielzimmer
Saunalandschaft
Verleih von Kinderwagen und Schlitten
Erlebnishallenbad mit 200 m² Wasserfläche
110 m Riesen Erlebnis Wasserrutsche
Trampolinanlage (11x6 m)
Garagenplatz oder Parkplatz
Gratis-Schibus (fährt alle 10 Minuten zur 1,5 km entfernten Talstation - Fahrzeit max. 5 Minute)
hotel

130 Camas

Familie Stöckl

Gerlos 125, 6281 Gerlos
Modalidades de pago

Bezahlung in Bar, Maestro-Card, Visa, Mastercard oder Überweisung