Purest Premium Apartment Resort
- Achenkirch
© ANNA-SOPHIE O
© ANNA-SOPHIE O
Apartamento de vacaciones / Chalet

20 Camas, 6 Apartamentos

Familie Messner

Fiechtersiedlung 245, 6215 Achenkirch am Achensee
Welcome
Purism & living perfection during your holidays, an array of feel-good moments at your personal retreat, each and every instant of these, the most valuable days of your entire year, relished to the fullest.
Enjoy time spent within your own family circle and a well-deserved getaway.
This is precisely why we created our PUREST refuge in Achenkirch.
Winter begins right outside your own front door. Bathed in brilliant sunshine, snow crystals glisten – the wintry countryside couldn't possibly be more picturesque. The lake, clear as crystal. Meanwhile, the alpine massif, bundled up in its thick wintry gown, invites guests to enjoy cross-country and downhill skiing as well as winter hikes amid the peaks of the Rofan and Karwendel mountains. Children are thrilled, of course, by the opportunities for occasional snowball fights, racing down the hillside on snow discs, building snowmen, and the uninterrupted freedom they have in and around the apartment house itself.
Habitación/Apartamentos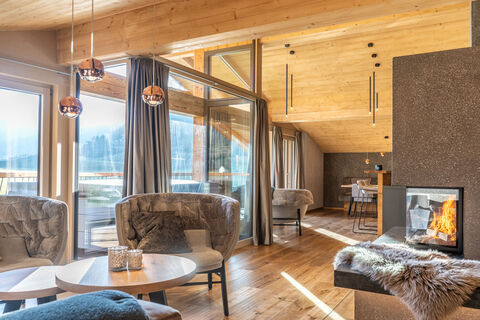 PUREST Penthouse
Penthouse Apartment

PUREST Paradise
Apartment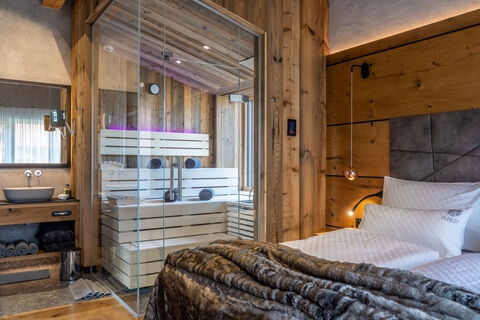 PUREST Happiness
Apartment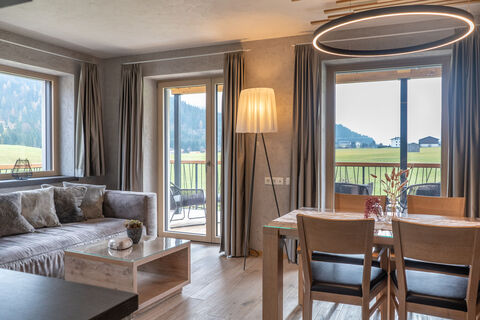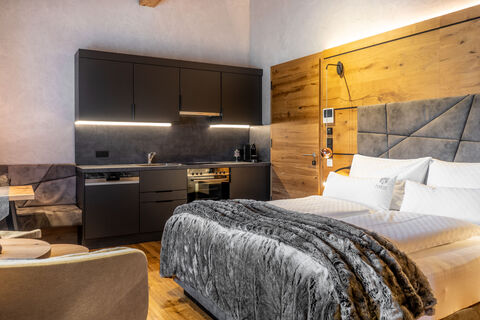 Vídeos
00:20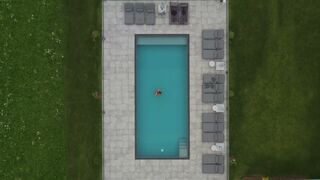 00:38
Dear guests,
please read the description of the suites carefully, as the equipment varies greatly depending on the category. Furthermore, we would like to inform you that our outdoor infinity pool is open to all guests of the house and is heated from the beginning of May to the end of October. Please note that our resort does not have a shared sauna area. For questions or requests, we are at your disposal at any time. We look forward to welcoming you!
Sincerely, yours family Messner and the entire PUREST team
mostrar más
Ofertas Invierno
Especiales / Vacaciones románticas / Precio total para disfrutar
Válido desde 01.09.2023 hasta 17.12.2023
mostrar más
Ofertas Verano
desde 1.950 EUR
10 Noches
Vacaciones activas / Excursiones para moteros / Vacaciones en bicicleta
Válido desde 01.09.2023 hasta 30.11.2023
desde 1.950 EUR
10 Noches
Vacaciones activas / Vacaciones de playa / Adventure vacation
Válido desde 01.09.2023 hasta 30.11.2023
Especiales / Vacaciones románticas / Precio total para disfrutar
Válido desde 01.09.2023 hasta 17.12.2023
Precios
PUREST Penthouse (Penthouse Apartment)
por unidad / por noche
| Sin catering
+ 170,00 €
pro Objeto / pro Permanezca en
Impuestos locales
por persona / por noche
Cunas: Baby cot
máx. 2 admisible
+ 10,00 €
pro Nº / pro Noche
PUREST Paradise (Apartment)
por unidad / por noche
| Sin catering
+ 150,00 €
pro Objeto / pro Permanezca en
Impuestos locales
por persona / por noche
Cunas: Baby cot
máx. 2 admisible
+ 10,00 €
pro Nº / pro Noche
PUREST Harmony (Apartment)
por unidad / por noche
| Sin catering
+ 150,00 €
pro Objeto / pro Permanezca en
Impuestos locales
por persona / por noche
Cunas: Baby cot
máx. 2 admisible
+ 10,00 €
pro Nº / pro Noche
PUREST Happiness (Apartment)
por unidad / por noche
| Sin catering
+ 120,00 €
pro Objeto / pro Permanezca en
Impuestos locales
por persona / por noche
Cunas: Baby cot
máx. 2 admisible
+ 10,00 €
pro Nº / pro Noche
PUREST Passion (Apartment)
por unidad / por noche
| Sin catering
+ 100,00 €
pro Objeto / pro Permanezca en
Impuestos locales
por persona / por noche
Cunas: Baby cot
máx. 2 admisible
+ 10,00 €
pro Nº / pro Noche
PUREST Heaven (Studio)
por unidad / por noche
| Sin catering
+ 100,00 €
pro Objeto / pro Permanezca en
Impuestos locales
por persona / por noche
Cunas: Baby cot
máx. 2 admisible
+ 10,00 €
pro Nº / pro Noche
Apartamento de vacaciones / Chalet

20 Camas, 6 Apartamentos

Familie Messner

Fiechtersiedlung 245, 6215 Achenkirch am Achensee